I recently read this article on marketing to the C-Suite, which shares an interesting diagram on "selling in reverse order." We are not talking about reverse selling which uses sales psychology to help customers convince themselves they need your product – selling in reverse order is about flipping the typical sales convention on its head. 
Ordinarily business to business marketing and sales try to create this sales journey:
Get as many people as possible to understand who you are and what you do. Hopefully, this presents us the opportunity to start the next steps.

Through a presentation, meeting, or online video, we unpack our service or product's features and benefits.

Next, we look for an opportunity to make it real to the client by creating a business case.

Finally, we hope that the whole sales process built enough trust to convince the buyer to work with us.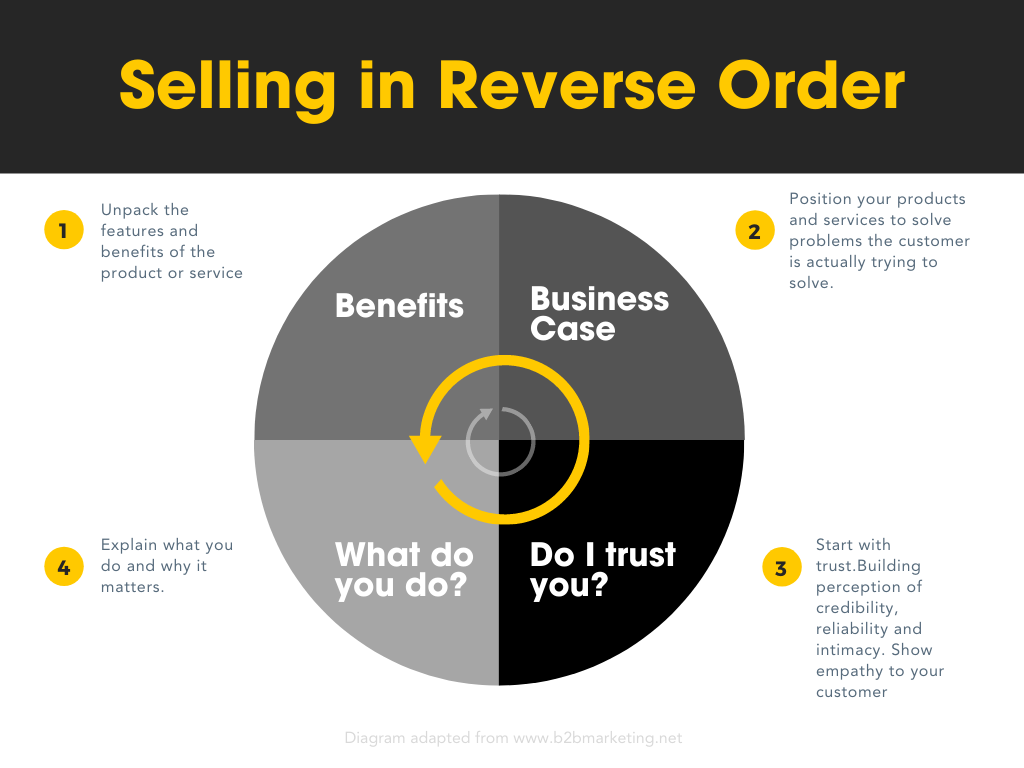 Selling in reverse order is different, and I believe it has application far beyond marketing to the C-suite. 
Work in the market to build a strong perception of trust.

Create content and engagement opportunities that present the business case to prospective clients

Now that the door is open take the time to unpack the product or service's benefits and features for the client

Finally, remind the client that this is what you do and that you produce great results.
It's likely that in this scenario you should see a much higher close rate on sales engagements because you started the relationship on a foundation of trust, the client identified you as a solution based on your business cases and brand reputation. Finally, you can have a real, honest conversation around your capability because you are no longer selling by the time you reached step 3 and 4 – you are talking about the implementation details. 
Marketing and selling like this all hangs on trust – how can you establish it, how can you build it.
Most salespeople struggle in these post-pandemic times, as the tools they rely on to build trust are no longer possible amidst social distancing and a virtual workforce. Especially in markets where B2B services have little or no perceived value to using one business over another. 
The digital economy has been able to develop tools and systems that help people build trust online. Alongside this, there are many marketing strategies that have proven successful in building trust for celebrities, thought leaders and brands. These strategies are executed over online platforms every day. 
Think about the people who found husbands and wives over Facebook or online chat groups. Think about how the music industry builds massive followings of customers mostly through online marketing. Now think about B2B Marketing and how it needs to adapt to building trust in your prospective customers' minds. 
Here are a few resources I have for building trust in a digital economy: