On the evening of 22 June, KZN's premier businesses gathered to support and promote the province's top companies and entrepreneurs. The Standard Bank KwaZulu-Natal Top Business Awards have firmly established themselves as a highlight in the KwaZulu-Natal business calendar.
This year the awards once again celebrated successful companies and organisations in KwaZulu-Natal. The awards event provides an excellent opportunity for all business sectors to meet, be inspired and showcase their achievements to their peers. Each of the award categories celebrates and recognises business and organisational success across economic sectors in both the private and public arenas.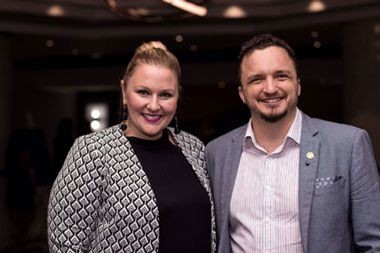 The awards evening also saw the launch of the next annual edition of the KZN Top Business and Top Leaders Portfolio. The portfolio is an online portal to KwaZulu-Natal's top businesses, organisations, municipalities and government departments. The website also includes a profile of the province, as well as insight into successful governance and the economy. It also highlights current investment possibilities in the province and provides regular news updates. KwaZulu-Natal offers you great opportunities for growth, expansion, trade and investment.
Digital marketing agency DigitLab is proud to have been included in this Top Business Portfolio for 2018 and to have their CEO, Mike Saunders, highlighted as one of the province's top leaders in the KZN Leaders Portfolio.
"It has always been part of our vision to build a significant business on KZN soil and we will continue to chase our dream of building an international digital agency with its head office in Durban," says Mike Saunders. 
Grant Adlam in his speech at the KZN Top Business Awards commented that the KZN Top Business website was initially created by Mike Saunders almost ten years ago.
Mike built an online marketing framework that adopted strong principles of relevant content, good SEO practices and a development structure that enables easy management of these integral website aspects.
"I am truly humbled that Grant took the time to acknowledge my contribution to one of KZN's most valuable investment portals and I look forward to future partnerships that build the reputation of KZN as an investment destination," enthused Mike Saunders.
Furthermore, DigitLab is proud to see two of their clients being recognised as top KZN businesses, with both winning their respective sector's award. "We want to congratulate FMI and Blue Security for being recognised as KZN's best. We are proud to have walked this journey with you and are sure that the future holds great things for these brands," said Vicky Meagher, DigitLab MD. "We pride ourselves on our client's success and are incredibly happy to see their success celebrated on this prestigious platform."
This press release originally appeared on Bizcommunity